Ten-year-old Phoebe tells us about her passion for reading and what she did when she fell out of love with books.
---
I've always loved to read but a little while ago I went off it a bit. I always have lots going on and it was becoming harder to find the time to look at books and choose those that I wanted to read. All of a sudden, I realised that I was hardly reading at all and that I really missed it but didn't know how to fit it in.
I came up with the idea of trying audio books and I was really surprised at how much I liked them. Using audio books has really helped me get back into reading. You can listen to the book over and over and you get to hear lots of different vocabulary without having to concentrate too much. I think it helps you to understand tricky words if someone else is reading to you as you don't have to concentrate on sounding out, you can relax a bit more and just enjoy it. You can also listen to an audio book anywhere – in the car, getting ready for school or even while you're doing jobs! It's fantastic because you don't have to miss out if you haven't got the time to sit down and read a book.
My favourite reads:
Harry Potter - Prisoner of Azkaban – It's so detailed and has really good vocabulary and I love the fact it's packed full of adventure.
Harry Potter - Half-blood Prince. – This is my second favourite and think it's a good book for both boys and girls.
My top tips for choosing a book:
1. Try different types of book – I love books based on true stories.
2. Use the blurb – the blurb gives you an idea of what the book will be like.
3. Don't be fooled by the pictures – sometimes the pictures can be amazing but the story is not so good, so always read a bit of the book first.
Books I'd recommend for readers my age:
Wonder by R J Palacio – This is a lovely story that's now been made into a film.
Malory Towers by Enid Blyton – This is a series of books, so there are more to read if you like this type of story.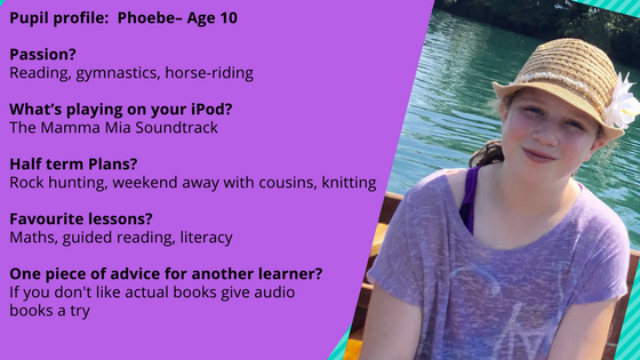 ---
By Jennie Adams on 20th October 2017
---