Having made the transition to year 7 last year, Oscar shares the experience. He tells us what's great about secondary school, why he needn't have worried and his top tips for a smooth move.
---
Thinking back, I wasn't sure that I was going to like secondary school as much as my primary school. The primary school I went to is really close to my house and I was going to have to take a bus to secondary school! Now I've done it I think there are actually loads of benefits of moving up.
The good stuff about secondary school:
Secondary school is much bigger than primary school. This means more space and facilities.

Bigger also means more pupils and more opportunities to meet cool new people and make more friends.

There is a good variety of subjects and loads of resources.

You can be more independent and do stuff on your own like getting to school. I have to walk and get the bus. It was scary to begin with but now I'm used to it, I enjoy having the time to talk to friends on the way.

You get to learn more subjects and some of them are much more interesting and exciting than in primary school.

You have teachers for each subject and so every lesson is different and in different parts of the school.

It felt really good at the end of the first week, like I'd grown up a lot and had done so many new things.

You can ask for help from your teachers and teaching assistants and they help you in lots of different ways.

The things I was worried about but didn't need to:
Travelling to get there – it was much further away from my primary school but once I'd done the journey I felt loads better.

The size – my primary school is quite small and I was worried about getting lost. The teachers and staff all help you during the first few days to find your way around so it's not a problem.

The homework – I was worried about the amount I'd get and not having enough time to do it but it's not that different to primary school in year 7 and the teachers spread it out so that you don't get it all at once.

Work being harder – I thought the school work would be so much harder but it was ok. You learn about things in more detail but it's really not that different to year 6 and you get to spend longer in lessons so if anything is difficult you can ask the teacher and work on it there and then.

Older children – I thought they might make fun of us or be a bit mean but my school had a phased start which meant we got to settle in and find our way around before the older children came back to school.

My top tips for making sure you're ready:
Go to any open days - this helps because you get to see the school and some of the staff which means it's not so strange on your first day.

Reading list - if your school gives you stuff to read over the summer, make sure you do it so that you don't feel left out at the start of term and it really helps you with the new work.

Maths games - my school suggested playing lots of maths games to keep your mental arithmetic sharp.

Rehearse the route to school – this helps you know where you're going and how long it will take so that you're on time and not stressed out at the start of your first day.

Get uniform and equipment and kit ready – make sure you have everything ready before the first day so that you're not late.

Look at your timetable the day before – pack what you need the night before and only take what you need for that day, otherwise your bag gets really heavy!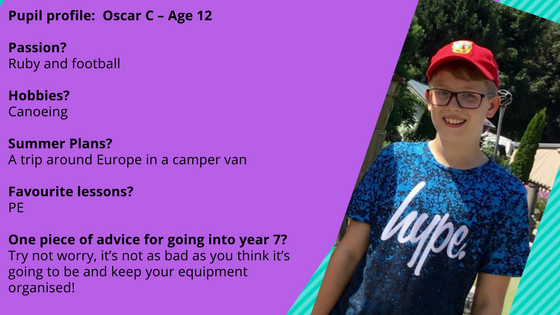 ---
By Jennie Adams on 17th August 2017
---